I choose not to use many additives and do not advocate the use of many products – I think there's a lot on the market that is not really necessary for keeping Koi, providing that you have a good routine and technique.
However, Bactoplus Fresh PSB is one of few the products that I always have to hand. In fact I've been using it for over 15 years since the days of working at my dad's aquatics shop!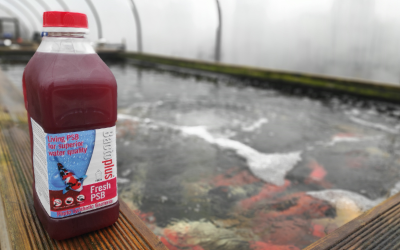 Produced by Aquadistri it is a photosynthetic living bacteria, primarily a cleaning bacteria that breaks down dirt to help provide sparkling, crystal clear water. It can be used during spring, summer and autumn, and is really good at clearing ammonia spikes that tend to happen more around this time of year.
Grown in the Netherlands, it is 100% organic and comes undiluted in the bottle. It's activated as soon as it is added to the water to remove ammonia and other pollutants, improving quality and clarity of your pond. As soon as you open it you can tell it's organic because of it's strong smell, and the good news is that Bactoplus Fresh PSB can be used in high doses.
I really recommend the stuff. It clearly does work and everybody I know who sells it continues to have repeat sales – this simply wouldn't happen if the product wasn't up to scratch.
It's available for aquatics retailers to buy from us as part of our new range of dry goods.
For more details visit the Bactoplus Fresh PSB product page of our website (note that this link will only work for retailers with a log in to our website).